VIC Fundraiser
Pledge a Penny Per Mile for the Visitor Information Centre
You will often see our email messages to ABoT members signed off with, "Together we are stronger." Well, no one exemplifies that as well as past ABoT Vice President, Bill Monk of A Seafaring Maiden Bed & Breakfast, who is currently out fulfilling a lifelong dream to hike the Appalachian Trail. Even in the midst of this adventure, he's thinking about all of us back home and came up with a fantastic fundraising campaign for the ABoT-funded Visitor Information Centre located at the Annapolis Royal Tidal Power Plant. We'll let Bill explain how you can take part…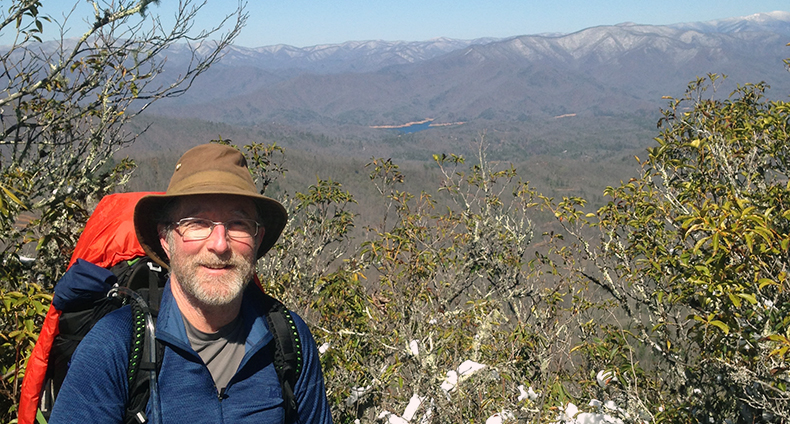 A NOTE FROM BILL MONK, retired VP, Annapolis Board of Trade
Hello friends, neighbours, Annapolis Board of Trade members, and all of you who believe in the future of our Annapolis Royal and area community!
Many of you already know that I have embarked on a little adventure, to thru-hike the 2,190 miles of the Appalachian Trail from Springer Mountain, Georgia, to Mount Katahdin, Maine.  Each year thousands of hikers attempt a thru-hike; only about one in four makes it all the way.  My plan is to make it all the way, and while I am at it, support the Annapolis Board of Trade.
I am requesting that you consider sponsoring my 2,190-mile hike by pledging a "penny a mile", all proceeds to help fund staff increases at the Annapolis Board of Trade Visitor Information Centre!
Here's why I am asking.  Last year our Visitor Information Centre at the Annapolis Royal Causeway served 16,228 travellers to Annapolis Royal and District.  This year, 2017, the 150th anniversary of Confederation, we are expecting over 18,000 visitors!!  We need to hire a super manager and more staff to take care of this huge influx of visitors, but we don't have enough money.
Sufficient staff for this banner visitor year will cost us almost $36,000 at a moderate budget estimate. That will take most of our dues as well as all the funding provided by the Town of Annapolis Royal, the County of Annapolis, the Federal government (Canada Summer Jobs for Students) and the Province of Nova Scotia.
Maybe you think the VIC doesn't do anything for you, but I think that's the wrong way to look at it.  Even if you are not a restaurant, shop, attraction, accommodation or service that directly benefits from the VIC, you surely do benefit indirectly – because a rising economic tide floats all boats – and the better our restaurants, shops, attractions, accommodations and services do, the more money those owners have to spend with you! So it all works out.
As a member of AboT and its past Vice President, a tourism operator, and a person who believes in our Annapolis Royal and area community, I am proud to add this community fundraising dimension to my hike.
Please support ABoT by taking the "penny a mile pledge".  You can send your pledge to my darling wife Ann Marie at monkb@ns.sympatico.ca  and follow how much this is costing you by logging on to my trip journal website:
http://www.trailjournals.com/entry.cfm?trailname=21044
And of course, you can pledge more than a penny a mile if you like!
Thank you so much!
Happy trails,
Bill Monk,
Trail Name: Whistler
Frequently Asked Questions…
How do I make a pledge?
It's easy! Just email Ann Marie Monk at monkb@ns.sympatico.ca and tell her how much you want to pledge.
Can I pledge more than a penny per mile?
Yes! A penny per mile is the suggested amount, but you can pledge more per mile or simply make a lump sum donation in the amount of your choice.
Can I write a cheque?
Yes! Make it payable to the Annapolis Board of Trade and write "AT/VIC Fundraiser" in the memo-line.
Where do I mail my cheque to?
You can mail it to:
ABoT
Box 2
Annapolis Royal, NS B0S 1A0
Or mail it to:
The Monk's
5287 Granville Rd. #97
Granville Ferry, NS B0S 1K0
Can I make my donation BEFORE Bill completes his hike?
Yes! But if for any reason he walks less miles than you pledged and paid for, there won't be any refunds.
Where can I follow Bill's hike to make sure he walks every last one of those miles?
You can read his trail journal at http://www.trailjournals.com/entry.cfm?trailname=21044